SERVICES
---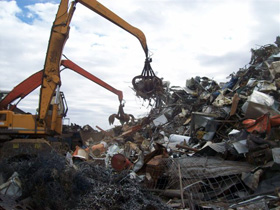 Being in the business for over forty years, we have been able to create programs for our customers that improve inventory control and ensure that waste material is properly recycled, thus limiting future environmental liability.
Additional services include product disassembly, "proprietary" destruction and inventory management. If your company is interested in recycling services, contact us and see how Jarvis Metals Recycling Inc. can solve your scrap material problems.
Recycling Consulting
If your company is confused about what is considered scrap or ordinary waste material, we can help. Jarvis Metals Recycling Inc. provides simple answers to your concerns. Scrap and waste audits are available for companies throughout West Texas.
Commercial Container Service
Too much scrap and not enough time to bring it in? Jarvis Metals Recycling Inc. provides roll-off boxes and trailers for scrap removal.
Demolition & Removal
Need an old metal building torn down? Jarvis Metals Recycling Inc. has the skills and tools to efficiently demolish and remove old metal structures.
Brokerage Services
With over forty years of experience in the recycling industry, Jarvis Metals Recycling Inc. has established trade relationships with many of the industry's largest and most well known mills and processors. We can use all of our knowledge and associations to provide you with the best prices possible for your materials.
Call Jarvis Metals Recycling Inc. today at 806-744-7091 to discuss your recycling needs.